Multiurethanes is a leading international supplier of materials, equipment and engineering support services for all types of grouting operations, including water cut-off, soil stabilization, concrete repair, sewer rehabilitation and waterproofing. 
As a leading grouting solutions provider to underground mining, heavy civil, tunneling, deep excavation, geotechnical, concrete construction and municipal services projects, Multiurethanes solves problems requiring complex grouting applications.
Multiurethanes Ltd operates across Canada (coast-to-coast) and in the USA through our affiliate Multiurethanes Inc. We have been active in various Asian and South American countries for several years.
HIGH PERFORMANCE GROUTING PRODUCTS
Multiurethanes offers a broad range of injection products, including cement-based grouts and additives, microfine cement grouts, specialized chemical grouts, epoxy grouts and related grouting equipment and accessories.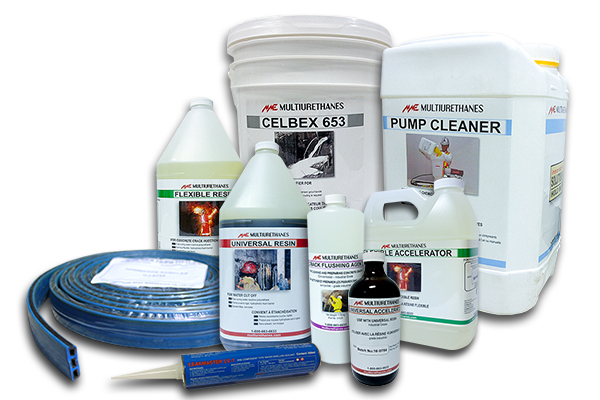 SPECIALIZED GROUTING EQUIPMENT
Considered an innovative leader in grouting applications, we sell, rent and customize grouting equipment for use on various types of tunneling, mining, heavy civil, utility, deep excavations, and geotechnical construction projects where reliability and high performance are required.
ON-SITE GROUTING SERVICES
We provide technical support and direction for complex grouting operations.
Our services include on-site assessments to determine project requirements, recommendations and application of appropriate grouting products, equipment and techniques to suit specific site conditions.
We offer unique capabilities to solve difficult water inflow problems