Multiurethanes is a leading international supplier of materials, equipment and technical support services for all types of grouting operations, including water cut-off, soil stabilization, concrete repair, sewer rehabilitation and waterproofing. 
As a leading grouting solutions provider to underground mining, heavy civil, tunnelling, deep excavation, geotechnical, concrete construction and municipal services projects, Multiurethanes solves problems requiring complex grouting applications.
Multiurethanes Ltd operates across Canada (coast-to-coast) and in the USA through our affiliate Multiurethanes Inc. We have been active in various Asian and South American countries for several years.
We are committed to building and preserving a safe and healthy injury-free workplace,
supporting our belief that all incidents are preventable
HIGH PERFORMANCE GROUTING PRODUCTS
Multiurethanes offers a broad range of injection products, including cement-based grouts and additives, microfine cement grouts, specialized chemical grouts, epoxy grouts and related grouting equipment and accessories.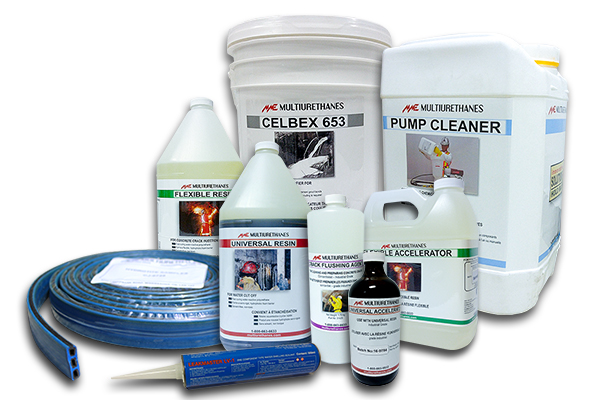 SPECIALIZED GROUTING EQUIPMENT
Considered an innovative leader in grouting applications, we sell, rent and customize grouting equipment for use on various types of tunnelling, mining, heavy civil, utility, deep excavations, and geotechnical construction projects where reliability and high performance are required.
"Thank you and your team for doing a fine job on the grouting.
We had exceptional results and the job was completed exactly according to schedule. It was a pleasure doing business with you."
"We have been more than impressed with the service we've received. Your office and field staff reduced that level of difficulty
through every step."
"Thank you for your company's work on this difficult project. I look forward to working with you in the future."
"As usual, the Multiurethanes' team has provided thorough instructions and all the necessary accessories for operation.
Thanks again!"
"You saved our bacon. It was worth every penny
having your engineers on site."
"I appreciate your efforts making the batching look easy. It is nice to have a subcontractor that gives you no worries delivering the product services needed."
"Your guys did a great job and left the site nice and tidy.
Thanks for your help."
"I had a great working experience with all of your staff. I hope that I get another chance to do it again someday."
Multiurethanes'​ trained engineering, mechanical, electrical and field technicians bring industry leading, up-to-date safe work practices and techniques providing unique solutions to challenging and complex grouting projects.
ON-SITE GROUTING SERVICES
We provide technical support and direction for complex grouting operations. Our services include on-site assessments to determine project requirements, recommendations and application of appropriate grouting products, equipment and techniques to suit specific site conditions.
Multiurethanes offers career opportunities for entry level personnel and experienced professionals. Visit our career page for a list of current openings.