EQUIPMENT SERVICES
---
Multiurethanes skilled technicians routinely assist with the installation, maintenance and repairing of grouting equipment, as required by construction companies for highly specialized applications.
Maintenance and service of  specialty grouting equipment such as grout pumps, colloidal mixers, agitator tanks, and grout plants

Maintenance and configuration of portable power systems and electrical components for use on project sites

Installation and programming of grout monitoring equipment

On-site troubleshooting of grouting equipment
Service & Repair Featured Projects
Grouting Equipment Maintenance and Troubleshooting
Maintenance and service of electric grout pumps, progressive cavity pumps and piston grout pumps for a variety of grouting operations, providing on-site troubleshooting and technical support
Monitoring Equipment Installation
Installation and programming of electromagnetic flow-meter and density-meter monitoring systems for diverse chemical and cement grouting operations
Design and assembly of high-voltage power supply systems to operate large-scale cement grout plant at remote job site locations
Design of high-pressure chemical grout equipment, hoses and associated hardware

Assembly of turn-key grouting plants, completed with ancillary equipment

Selection of mixing and pumping equipment with appropriate capacity to enable the required scope of work

Enhancements to contractor's grouting equipment including the incorporation of appropriate monitoring systems for accurate measurement of grouting pressures

Supply of specialized grouting equipment and accessories, as well as on-site training for company crews to undertake the required drilling and grouting work
Customization Featured Projects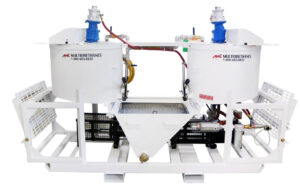 High-pressure Grout Plant Customization
An important mining company, with operations in Canada, Finland and Mexico contacted us to supply them with specialized grouting equipment.
We assembled a high-pressure grout plant, complete with ancillary equipment and accessories, and arranged the shipment to the remote mine site in Mexico. Cement grouting equipment supplied by Multiurethanes included a double-drum grout mixer and CG-500-3X8/A, a high-pressure plunger pump, rated for the volumes and pressures required to undertake mining projects.
Enhancements to the grouting equipment included the incorporation of water header pipes and safety cages for the pistons and the power pack.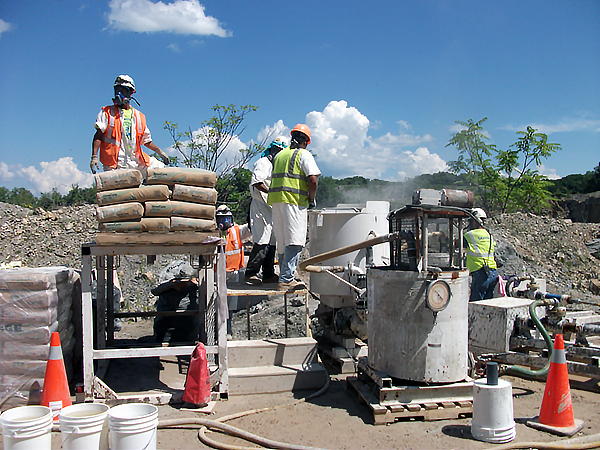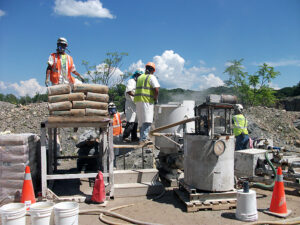 Equipment Customization for Deep Dive Shaft Grouting
A municipal water supply company was building a large water treatment facility situated on the outskirts of New York City. Construction crews encountered a leaking bypass pipe at a depth of 400 feet below the surface between two adjacent deep water supply shafts.
The diving contractor selected Multiurethanes to fill the defective bypass pipe using cement grout. In addition, specialists configured appropriate cement grouting equipment for this underwater grouting project, consisting of a diesel generator, an electrical control panel with variable frequency drives; a colloidal grout mixer, a 400-litre agitator tank, a 2L6 progressive cavity pump, electromagnetic flowmeters, pressure gauges, and high-pressure hoses.
Specialized training on grouting equipment operation, assembly/disassembly and service & maintenance

Detailed instructions and guidelines for safe operation of grouting equipment, monitoring equipment and accessories

Training materials, including service manuals, specifications and printed diagrams of equipment, diagram parts and stock parts lists, and other required
Training Featured Projects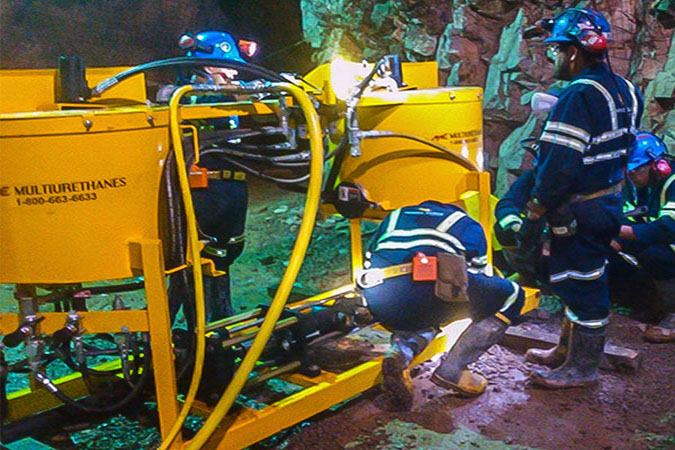 High-specialized Equipment Training
An international mining company,  contacted us to provide specialized training on grouting equipment. One of our technicians traveled to a mine site in Mexico to conduct training in Spanish to their personnel on the maintenance and use of their hydraulic grout plant. During the training session, our specialist, as well as providing detailed theoretical information, also presented practical instructions on the proper maintenance, operation and safety precautions of the plant. Additionally, guidelines for the safe operation on high-pressure grouting applications were an important part of the training session. When you need on-site training to support your grouting operations, Contact Multiurethanes to train your personnel.